Please note that we are unable to take on any more new clients at the moment. We do not give free advice to non-clients by telephone or email.
Your tax problems solved...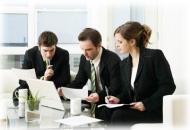 We are a small firm of Brighton accountants, and we provide a full range of accounting services that will make your life easier. Whether you are an employee or buy-to-let investor who cannot face battling through your annual tax return, or a small business that wants monthly book-keeping, payroll and management accounts as well as annual accounts and tax advice, we can help you.

We specialise in small businesses and limited companies. We are also particularly experienced in dealing with cases of property rental income and where capital gains tax relief may be available when properties are sold. And we are always on your side.

We are a small team who all have a stake in the business, so we are all committed to its long-term survival and growth through providing an excellent service. You will not come across any unmotivated, nine-to-five employees when you deal with us.

If you are looking for an accountant in the Brighton area, we are always happy to arrange an initial meeting to explore ways in which we can help you. This is always without charge and without obligation.

We are not the cheapest accountants in Brighton, but if you are looking for a high quality service with attention to detail, then please get in touch.